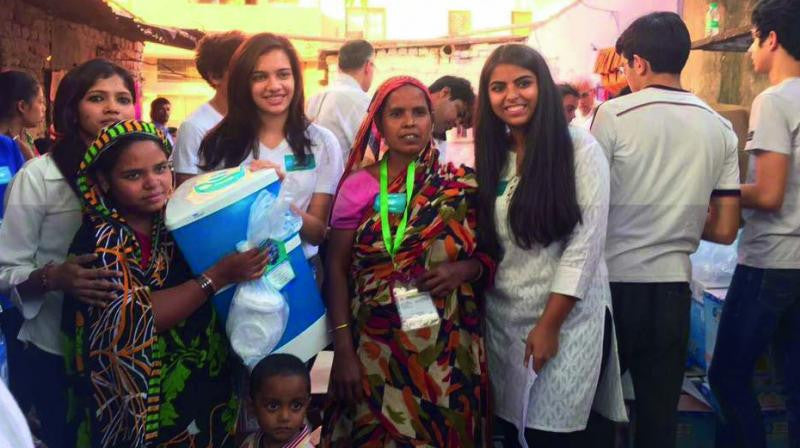 Teens raise Rs 4 lakh for drinking water in slums
New Delhi: Realising that many underprivileged areas in the national capital lack access to safe drinking water, two 17-year-old girls have undertaken an initiative to provide pure drinking water in and around the slums of Delhi and Gurugram.
The students of Shri Ram School, Manya Kalra and Sana Kharbanda, have successfully raised an astounding sum of Rs 4 lakh in six months through their crowd-funded campaign on Ketto, 'Elixir Shudh Paani ki Shapat,' as an endeavour to install non-electrical water purifiers in the homes of the less fortunate.
The duo visited various slums like Chakkarpur in Gurugram and Aya Nagar in Delhi. After an interaction with the women and children in these areas, they realised that unavailability of clean drinking water was one of the biggest problems they faced.
Initially, choosing 60 homes in Chakkarpur village as part of a pilot project, the teenagers so far have distributed over 220 filters across both the slums. "The dwellers were left with no alternative and they had to drink infested water every single day. Sometimes it was visibly muddy and unclean. Even after boiling the water, they were not sure whether to drink that or not. This is one of the major reasons that children catch several water-borne diseases quite easily," said Ms Kalra.
It was then that Sana and Manya zeroed on the idea of providing the residents with water filters. They partnered with Tata Chemicals and chose the non-electric and economical, yet effective purifier, Tata Swach Cristella Plus filter.
Even though the cost of one purifier, including servicing for two years, is Rs 1,500, Tata Chemicals decided to service the purifiers for free for one year after learning their project is for a social cause. "The company provides an extra bulb along with the filter and their technicians come with us to the slum areas to explain the operation of the filter and the procedure of changing the bulb. The dwellers now feel happy to drink clean and hygienic water," added Sana.
The startling teenagers are now planning to approach the corporate sector for raising funds and also make a short film to impart awareness in society about the hardships faced by the slum dwellers.